Most Expensive Watches in The World: Watch has become an inaugural part of our everyday dress code as we are most comfortable with a Wrist watch which also serves it's purpose of telling us the time. The importance, affordability, and comfortability of a Wrist watch has led to the emergence of numerous Watch brands who have over the years given us quality Wrist watch with value for our money and also some really expensive Wrist watch which will make one wonder why spend this much on a Wrist watch?
Watches in the later category are bountiful and for this purpose in this Article we shall consider the most expensive Wrist watch in this category.
Most Expensive Wrist Watches in the World 2022
10. Breguet Grande Marie-Antoinette: This limited edition watch has a fascinating history, with a design that dates back approximately 200 years. Breguet claims that the order for this pocket watch came to watchmaker Abraham-Louis Breguet in 1783. Unfortunately, Queen Marie-Antoinette never received the clock that was intended as a present for her.
The creation included every complexity that existed at the time. Brequet's Grande Complication contains a gold case and a calendar in addition to a thermometer. Before it was stolen in 1983, the watch was a part of the L. A. Mayer Museum for Islamic Art collection. Thankfully, it returned to the gallery in 2007. Currently valued at $30 million, this exquisite historical watch replica made by Breguet in 2008 is one of the most costly watches ever made.
10. Rolex Gmt Master II Ice: Rolex is a famous brand which has distinguished themselves in making sound, luxurious, and expensive watches such as the Paul Newman Rolex Daytona ($18 Million), 1975 Rolex Daytona Reference ($6 Million), Rolex Boa Dai ($5 Million) amongst others, but currently the most expensive Rolex Wrist watch is Rolex GMT Master ii ice.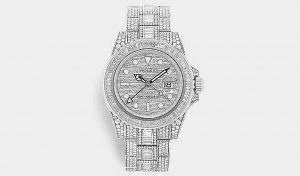 This watch is made from white gold and covered in precious diamond stones displaying two different time zone simultaneously and possessing a waterproof case. This watch is well attractive and gives you good value for your $600,000 expenses in purchasing the Watch.
9. Hublot Big Bang: Hublot as well is a famous watch brand which particularly every football fan must know as the brand is responsible for manufacturing the watches and  timer which the Referee and Assistant Referee makes use of in a football match.
The Hublot Big Bang watch currently ranks as the most expensive product of the brand with an estimated cost of $5 Million. This Hublot big bang watch is made up of Diamond having a total of 1282 diamonds, more than 90 carets of Baguette Diamonds, and a 44mm case which consists of a white Gold set with 302 baguette diamonds.
8. Tourbillon Rm 008: Richard Mille is an ever reliable and popular watch brand who's products are loved and well used by Millions of people across the globe particularly due to the innovation, expertise, and comfortability which comes with the products of the Richard Mille brand, and Richard Mille 008 is another of it's product which offers comfort to the Wrist with it's rubber straps and manual winding tourbillion clock.
The case of the watch is made of Gold and titanium Richard Mille double folding clasp. It's beautiful design, portability and simplicity makes it go well in any accessory or cloth, and this why the Watch is in high demand despite it's cost of $7 Million which makes it rank amongst the most expensive Wrist watch in the world.
7. Vacheron Constantin: The Vacheron Constantin 57260 a name which represents the 57 complications in the watch and the celebration of Vacheron 260th anniversary as a watch brand is one of the most complicated Wrist watch in the World as it has 2,826 parts, 31 hands, 57 complications, 242 jewels, 10 patents, and 85 different prototype each for every individual complication in this watch.
These complications in this watch best explains why it took 8 good years for the company to develop the watch and rightly so the watch is not only complicated, but relatively expensive as it is said to be sold at the price of $8 Million since it entered the market in 2015.
6. Patek Philippe: Patek Philippe is a long standing Swiss watch brand which has been in existence since 1839 having a long list of world class watches under it's berth and expensive watches at that. The Patek Philippe Ref
1518 is another expensive product of Patek Philippe which was introduced in 1941 becoming the first ever perpetual calendar chronograph Wrist watch with a Watch display of time, date, month, and year. Thus, effectively serving as a beautiful wrist watch and portable calendar waxed in Stainless steel. This watch ranks as one of the most expensive Wrist watch ever sold after breaking the record in 2016, selling for $11 Million.
5. Jacob & Co Billionaire Watch: The Jacob & Co Billionaire Watch as the name implies is an expensive watch which can only be afforded by Billionaires as it costs a whopping $19 Million. A cost commensurate to the unique features of the watch coupled with it's emerald cut diamonds of 260 Carats, distinctive rectangular shape and architectural skeletonized caliber.
The case, bezel and bracelet of this watch is made up of 176. 88 carats of 313 emerald cut diamonds which makes it overall a really beautiful watch.
4. Chopard 201 – Carat: Chopard 201 caret manufactured by Lous Ulysee Chopard ranks as one of the most luxurious Wrist Watch in the World. This watch is made of coloured diamonds (Pink, Yellow, White, Blue, Brown, and Orange) in a heart shaped diamond structure interwoven together in a considerate quantity to give the watch a unique blend of fascinating look which will attract the eyes.
This crafty and attractive nature of the watch has massively contributed to it's high appeal amongst people despite the expensive of nature of the watch which costs $25 Million; a hefty sum which it one of the most expensive watches in the World.
3. Patek Philip Grandmaster Chime: The Patek Philipp Grandmaster Chime is the most expensive product of the popular Watch brand Patek Philipp as it costs $28 Million. This watch has 20 complications which powers it's movements, six patent innovation, and unique features including but not limited to: Date Repeater, Perpetual Calendar, Power reserve indicator, second time zone day and night indicator, display of date (day, month and year), crown position indicator, and a 24 hour/ minute sub dial.
The expensive nature of this watch is therefore due to its unique features, Complications, Craftsmanship with rare materials, and exclusivity.
2. Jaeger Lecoultre Joaillene Manchette: Jaeger Lecoultre is a watch brand which may not have attained the popularity of some of the aforementioned watch brands, but it has definitely attained the status of one of the most expensive best quality watch in the world.
The most expensive Jaeger Lecoultre watch currently available in the market is the 'Hybre Mechanic Grande Sonnere' which costs $2.5 Million. While the most expensive watch ever branded by the company is the Jaeger Lecoultre Joaillene Joaiuerie manchette calibre 101 which was gifted to Queen Elizabeth ii to celebrate her 60th in power in 2012.
This Watch consists of White Gold set with baguette diamonds. It is the smallest mechanical watch in the world and it is also one of the most expensive watch with an estimated cost of $28 Million as things stand now.
1. Graff Diamond: Graff diamond is q jewelry brand which is ascribed with the most expensive watches in the world, with the Graff Diamond hallucination  costing $55 Million and the Graff Diamond Fascination costing $40 Million. The availability of the later in the market today makes it the most expensive watch in the world today.
The Graff Diamond Fascination watch is styled in Traditional looking diamond containing 152.97 carats of white diamond and a pear shaped diamond watch dial which can be used as a Watch dial or worn as a Ring. Thus, the watch is two in one; coming with a luxurious watch and ring.
The incredible features, quality, and explosive architecture of the watch justifies it's expensive price tag. With these we draw our curtain on the list of the most expensive watches in the world.