Are you looking for laptops under 100000 naira in Nigeria? If you want to get good value for your money, then this post is for you. You need specifications such as
 500GB HDD
core i3 or Pentium laptops.
Here is a list showing the prices and the specifications of these laptops under 100,000 naira in Nigeria. This will help your buying decision is made easier for you.
BEST LAPTOPS UNDER 100000 Naira in Nigeria
HP 15 Intel Celeron 1.6GHz (4GB Ram,500GB HDD) 15.6-Inch Screen Windows 10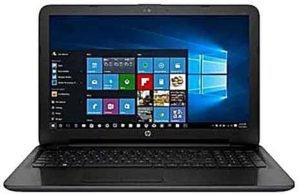 | | |
| --- | --- |
| Price | ₦ 97,990 |
| CPU | Intel Celeron 1.6Ghz |
| GPU | Intel HD Graphics |
| Display Size | 15.6 inches |
| Display Resolution | 1366 x 768 pixels |
| RAM | 4GB |
| Storage Space | 500GB HDD |
| Operating System | Windows 10 |
| Weight | 2.5Kgs |
| Why You Need It. | Cost, Design |
Lenovo Ideapad 110-15IBR Intel Pentium Quadcore N3710, 1.6Ghz Processor (4GB RAM, 1TB HDD) 15.6-Inch

Price
₦ 108,500
CPU
Intel Pentium Quadcore N3710 1.6Ghz
GPU
Itel HD Graphics
Display Size
15.6 inches
Display Resolution
1366 x 768
RAM
4GB
Storage Space
1TB HDD
Operating System
Windows 10
Weight
2.7 Kgs
Pros
Storage Capacity, Pricing
ASUS X206HA INTEL ATOM QUAD CORE 1.8GHz 32SSD 2GB WEBCAM BLUETOOTH 11.6 INCH WINDOW 10


Check Price on Jumia
Price
₦ 84,500
CPU
Intel Atom X5 Z8300
GPU
Intel HD Graphics
Display Size
11.6 inches
Display Resolution
1366 x 768 HD
RAM
2GB
Storage Space
32GB SSD
Operating System
Windows 10
Weight
2Kgs
Pros
Price, Design
Cons
Storage Capacity
SEE ALSO: List of 11 Delicious and Tantalizing Nigerian Dishes for Dinner
Current Price of Keke Napep in Nigeria
BBNaija Form Price 2020 | How Much is BBNaija form sold 2020/2021
Lenovo Intel Celeron Quadcore 1.6Ghz (2gb Ram, 500 Hdd + 32gb Flash Drive +led Lamp) Windows 10 – Black


See Jumia Price
Price
₦ 84,000
CPU
Intel Celeron Quadcore 1.6Ghz
GPU
itel HD Graphics
Display Size
15.6 inches
Display Resolution
1366 x 768
RAM
2GB RAM
Storage Space
500GB HDD
Operating System
Windows 10
Weight
2.5Kgs
Pros
Pricing, Design
Cons
RAM
ASUS Vivobook GQ39 Intel® Dual-Core Celeron® N3350 Processor (2M Cache, Up To 2.4 GHz) 500GB HDD 2GB RAM 15 Inch DVD+RW Win 10

Price
₦ 98,000
CPU
Intel® Dual-Core Celeron® N3350
GPU
Intel HD Graphics
Display Size
15.6 inches
Display Resolution
1366 x 768 HD
RAM
2GB
Storage Space
500GB HDD
Operating System
Windows 10
Weight
2.1Kgs
Pros
Pricing
Cons
NA
HP 250 G5 Notebook 4GB RAM, 500GB HDD, Windows 10, 15.6 inches


See Jumia Price
Price
₦ 109,500
CPU
Intel Celeron Processor
GPU
Intel HD Graphics 400
Display Size
15.6 inches
Display Resolution
1366 x 768 pixels
RAM
4 GB DDR3L-1600 SDRAM
Storage Space
500 GB 5400 rpm SATA
Operating System
Windows 10
Weight
1.9 Kgs
Pros
Price, Design, Battery life
Cons
None
Acer Aspire ES 11 Intel Celeron Quad-Core (2GB,500GB HDD) 11.6-Inch Wins 10 Laptop


See Jumia Price
Price
₦ 92,500
CPU
Intel Celeron Quad Core N3150, 1.6GHz up to 2.08 GHz
GPU
Intel HD Graphics
Display Size
11.6 inches
Display Resolution
1366 x 768 HD
RAM
2GB DDR3
Storage Space
500GB HDD
Operating System
Windows 10
Weight
2.3Kgs
Pros
Pricing, Design, Warranty
Cons
RAM
Dell Inspiron 15 3552 Intel Celeron 1.7GHz 4GB 500GB HDD


See Jumia Price
Price
₦ 103,400
CPU
Intel Celeron
GPU
Intel HD Graphics
Display Size
15.6 inches
Display Resolution
1366 x 768 HD
RAM
4GB
Storage Space
500GB HDD
Operating System
Windows 10
Weight
2.6Kgs
Pros
Pricing, Display
Cons
NA
HP Notebook 14-bs079nia Intel Celeron N3060 1.6Ghz (4GB RAM 500GB HDD)


See Jumia Price
Price
₦ 91,000
CPU
Intel® Celeron® N3060 (1.6 GHz
GPU
Intel HD Graphics
Display Size
14 inches
Display Resolution
1366 x 768 pixels
RAM
4 GB DDR3L-1600 SDRAM
Storage Space
500 GB 5400 rpm SATA
Operating System
Free DOS (Upgradable wo Windows 10)
Weight
1.9Kgs
Pros
Weight, Pricing
Cons
Storage
ASUS VivoBook MAX X541NA Intel 15.6 Inches 4GB RAM 500GB Hard Drive Notebook


See Jumia Price
Price
₦ 115,000
CPU
Intel Pentium
GPU
Intel HD Graphics
Display Size
15.6 inches
Display Resolution
1366 x 768 HD
RAM
4GB
Storage Space
500GB HDD
Operating System
Windows 10
Weight
1.8Kgs
Pros
Pricing
Cons
None
HP 255 AMD Quad Core (500GB HDD,4GB+ 32GB Flash) Windows 10


Check Jumia Price
Price
₦ 92,900
CPU
AMD Quad-Core
GPU
AMD Graphics
Display Size
15.6 inches
Display Resolution
1366 x 768 pixels
RAM
4GB
Storage Space
500GB
Operating System
Windows 10
Weight
3 Kgs
Pros
Performance
Cons
Weight
Dell Inspiron 15551 Intel Pentium,2.16GHz 15.6 Inches (4GB RAM, 500GB HDD+32GB FLASH,USB Light) Windows 10


See Jumia Price
Price
₦ 115,000
CPU
Intel Pentium
GPU
Intel HD Graphics
Display Size
15.6 inches
Display Resolution
1366 x 768 pixels
RAM
4GB
Storage Space
500GB HDD
Operating System
Windows 10
Weight
2.7KGs
Pros
Pricing
Cons
Storage
Best Laptops Under 100000 naira in Nigeria
List of 11 Delicious and Tantalizing Nigerian Dishes for Dinner
List of the 10 Best Universities in Nigeria
List of 9 NYSC Best States and How Much They Pay
List of Essential Things You Need for NYSC Camp | NYSC Camp Requirements